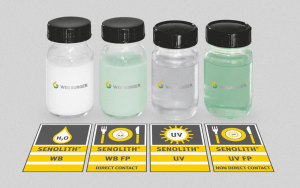 Safe printing – safe packaging
We completely re-catalogued our product range in 2011 based on the tightened guidelines of
European legislation and to simplify the safe application of our products in the food,
pharmaceutical and tobacco industries.
A major feature of the revised product catalogue is a new identification number system which allows the user during the ordering process to identify every range and every product suitable for food packaging by means of a simple numeric code.
Additionally and based on the enormous acceptance in the year 2009 of our color based identification system for food packaging UV coatings, we decided to also differentiate our dispersion coatings for food packaging using a light green colorant. This special colorant is only noticeable when the varnish is in the container or being processed and does not affect the visual appearance of the print.
Since also in the area of foodstuff conformity there are many uncertainties amongst brand owners, designers, printers and finishers with regards to the current legal status and the particular requirements for printed products that will be in direct or indirect contact to food, we offer within our seminar range also special trainings about this subject. These trainings can take place at our premises in Gerhardshofen (Germany) or based on demand in international locations as well
Product safety has the highest priority at Weilburger and this is reflected throughout the entire production chain:
Evaluation and approval of raw materials for food contact
Substitution of raw materials with critical components, particularly when the classification becomes stricter
Storage and delivery of raw materials and finished pro-ducts according to law
Passing information within the production chain regarding our products' conformity with the numerous existing regulations (i.e. the current EU regulations, the Swiss Commodities ordinance, the European Toys norm, European Cosmetics norm, European Biocides norm, etc.), conforming work between raw material suppliers and finishers, and the issuing of SoC (Statement of Composition) amongst others
Identification of our finished products according to GHS (Globally Harmonized System of Classification and Labeling of Chemicals) standards
Creating and regularly updating our safety data sheets
Supervising and assuring the legal conformity of our products for food contact materials through regular laboratory tests and commissioning external migration tests
Weilburger is again leading the way by setting a good example and enables its customers to ensure absolute safety in the production of food-safe packaging by means of comprehensive information, clear cataloguing and a carefully thought-out product range that also takes into account forthcoming legal requirements.

---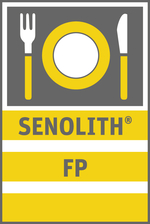 SENOLITH® FP
Water-based coatings and UV lacquers for the packaging of food and odour-sensitive goods
Produktklasse
• Coating unit    • Flexo printing  • Gravure    • Inline – offline
Produkte
• Anti-Slip varnishes  • Blister varnishes  • Cigarette coatings  • Gloss varnishes  • High gloss varnishes  • Label varnishes  • Primers  • Satin matt varnishes  • Barrier varnishes  • Calendar varnishes  • Film varnishes
• Heat-resistant varnishes  • Inline primers  • Matt varnishes  • Release varnishes